The future educators of the group, Turi, Caitlin, Emily Seller, and Morgan, got a taste of school in Ecuador. We caught the public, $0.25 bus because of the torrential downpour that soaked our clothes before even getting on the bus! Our "tour guide" was Mary Dorfer, a local missionary who has spent many years teaching in Ecuador. She and her family have spent over ten years in Ecuador starting in 1974. She brought us to a local school, called 12 de Octubre, where she spends time teaching struggling students how to read.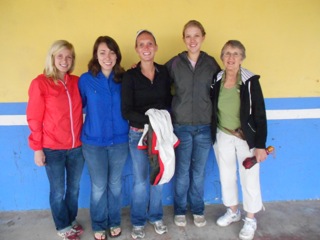 We began our morning by observing in a third grade classroom. It was an enthusiastic atmosphere with 28 energetic students. The walls were decorated with vibrant paintings of children and nature, all hand painted by the third grade teacher (apparently he had a boa constrictor painted around the perimeter of his classroom last year, cool!). All of the school classrooms are centered around an open courtyard and gym space where the kids are often seen kicking a soccer ball around. As we walked between every classroom we heard "Mira, Gringos!!!" coming from the students peering at us through the windows. We were definitely the excitement of the day!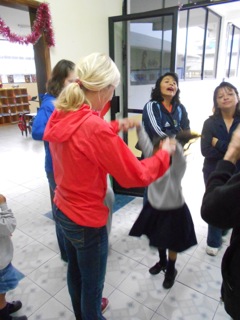 We continued to tour the school, stopping in a fifth grade class (with a teacher that was deemed "very strict") and a computer class before ending up in the kindergarten building. One of the kindergarten teachers greeted us as we walked in and showed us around her classroom while her students were watching Looney Tunes. Many of the kids were distracted by our presence and began to slowly emerge from the other room to get a look at us. Our Spanish skills were put to good use as we tried to communicate with both the students and the teacher! Turi was quite the hit with the kindergarteners and was swarmed for a while…as seen in the photo!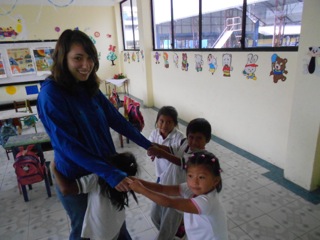 Around 10:30 we stepped off into the rain again and headed back through Shell to continue our work at La Casa de Fe and the hospital. As we sloshed through the puddles, all of us agreed that our future education careers are exactly what we want to do--who knows, maybe in a few more years one of us will end up back in Ecuador teaching!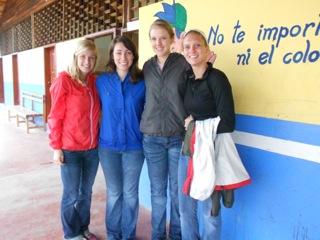 Turi, Caitlin, Morgan and Emily