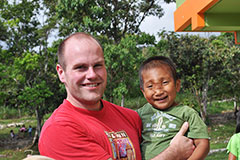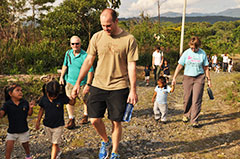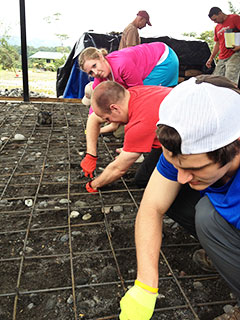 Originally published in the Spring 2013 Concordia Magazine.
By Rick Herold
My first trip to Ecuador happened by chance.
A recent Concordia graduate at the time, I was shadowing Dr. Bob Brunsvold '66, an anesthesiologist at a local hospital. During our time together, he kept mentioning this trip he was leading. The group was made up of several members of his church, a couple nurses and some Concordia students. Joining was as simple as asking if I could.
Before I knew it, I was on my way to Shell, a village in the foothills of the Ecuadorian Andes.
Ecuador can be overwhelming. There is so much to see, experience, taste, think about and reflect upon. It's also home to Casa de Fe, a residence for abandoned, abused and special needs children. That place, those children – and the way they have transformed and strengthened my faith – are the reasons I keep going back.
Why has it affected my life so much? Part of it is the story of Casa de Fe itself and the faith it takes to operate it. Patti Sue Arnold, the home's director, relies solely on donations to fund the operation, which costs more than $400,000 per year. At times, the staff has lived day by day wondering whether they will be able to feed, clothe, educate and pay for the medical and physical therapy needs of 60 children. Somehow, they manage to do just that.
That is one reason that it is so rewarding to go back, year after year, to watch the kids grow up. You know they are being well cared for. Try not to smile when you see little Alejo beaming from ear to ear as he holds an Ecuadorian flag bigger than he is while the whole school sings the Ecuadorian national anthem to start their school day. The freezing cold, pouring rain doesn't seem so bad when you hear 6-year-old Nila screaming your name at the top of her lungs so you can hear her across the schoolyard over the noise of two cement mixers. You get a real sense of accomplishment when you get Amanda and Mishel, two little girls with cerebral palsy, to laugh just by taking them on a bumpy ride in the double stroller.
This spring, I accompanied a group of volunteers comprised mostly of Concordia students whose majors ranged from pre-health professional to Spanish and business. Our main focus was to work on the foundation for a new tool shed that will eventually be used to teach the Casa de Fe kids basic vocational skills. Other projects included making workbooks for the local free school, scraping paint off old cribs at the hospital and building benches to be used at the school.
The work doesn't really matter. Whatever we do in Shell, the volunteers come home with a sense of accomplishment and, in my case, a strengthened relationship with God.
After four trips to Ecuador, I am amazed by God's ability to take a group of people from different backgrounds out of their comfort zones and put them to work effectively in sometimes difficult conditions with limited resources. People with little or no experience in construction find themselves pouring concrete, roofing, repairing stairs or using machetes to cut a swath through the jungle. On the most recent trip, our group laughed at a picture someone took of a young Cobber couple. In the photo, a young man looks up at his girlfriend on the roof. He had been unable to handle the height, and I imagine it was a humbling experience for him. Another student said that her father would never believe she pushed a wheelbarrow full of cement on an 8-inch plank all day long in the pouring rain.
For these and many other reasons, a part of my heart remains in Ecuador. I was recently asked why I keep going back to the same place. It is hard to give one answer, but I think the best answer is God.
During my first trip to Ecuador, I wasn't very sure of myself. I considered myself a Christian, but my faith wasn't something I felt comfortable discussing. Since then, my willingness to share my faith has expanded. My desire to contribute and be a part of what is going on in Shell, Ecuador, continues to grow.
God has created a soft spot in my life for Ecuador and specifically the kids at Casa de Fe. When I am there, I am able to experience God in a way that I haven't been able to in the hustle and bustle of life in the U.S. With all of the distractions back home, it is easy to put God in a box and only take him out once in a while. I am convinced the reason I am drawn to Ecuador is because that box is empty and God is present everywhere.
It has been an incredible journey so far, and I look forward to returning again to see what else God has in store.
Photos: Submitted Herold '07 graduates from the University of North Dakota School of Medicine in June. He will be completing his residency in emergency medicine at Naval Medical Center San Diego as a lieutenant.