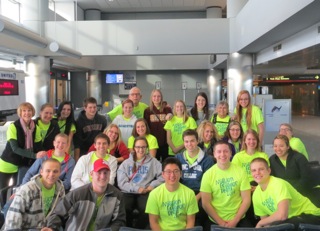 We met at the Fargo Airport at 4:00 AM and had a relatively quick time through security. We were able to bring the Hoyer Lift for Casa de Fe and two specialized wheelchairs for a children's home in Ambato.
The team waiting patiently for the flight to Quito. The latest midwest storm delayed our flight and the team found various ways to spend their time.
Riding bicycle…
Inverted "twerking"…
After a 51/2 hour flight we made it to Quito. The new airport in Quito is beautiful. Waiting for us were Jane Weaver, the surgeon from San Lorenzo, and her administrator, Damarys Reyes. Bob was able to bring much needed postoperative medications to them.
Also patiently waiting was Justin Child, our team member from California, who is making his second trip to Ecuador with our team.
We then hopped at bus for Shell and arrived a our hotel about 6:30 AM. A long day of travel filled which provided the opportunity to get to know the team better.
Looking forward to a great week in Shell…
Bob
"The church of God does not have a mission in the world. The God of mission has a church in the world!" ~ "Beyond Duty," Tim Dearborn