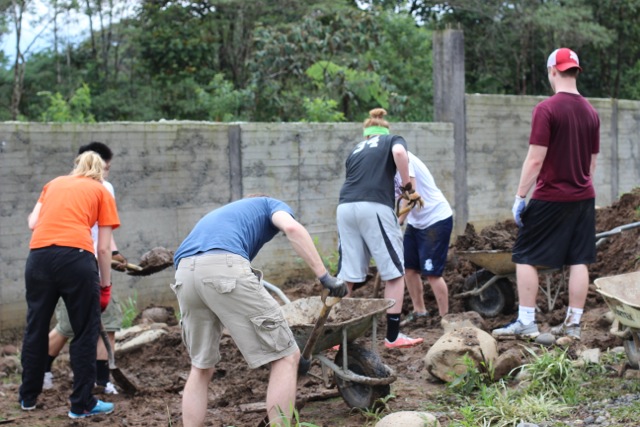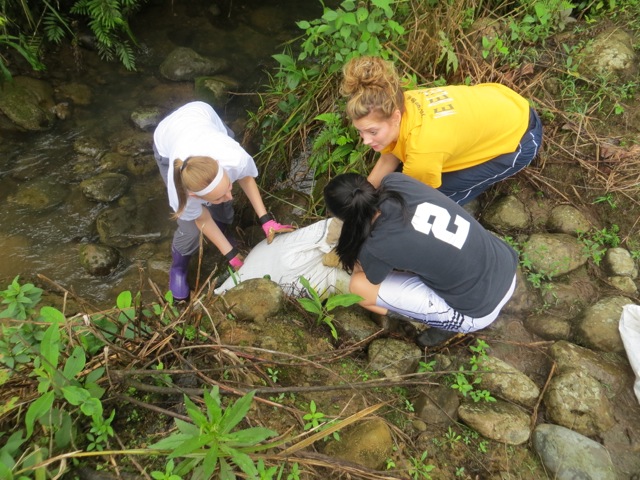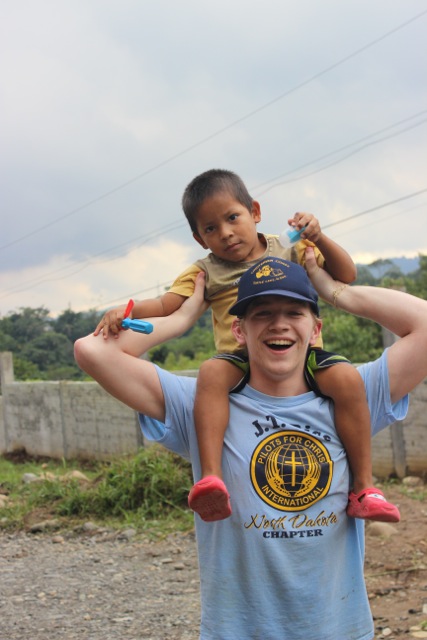 Today was our first day hard at work! We started the day off with chapel at the Nate Saint's School for the missionary kids and then began work at Casa de Fe and other locations. We were divided into four groups. Two groups made books for different schools, one group worked with fish, and others did construction work. The group at Emaus made around 400 books for the bilingual school! The group that went to Susan's house made books translating english books into a previously unwritten language. Susan has spent the past 13 years learning and creating written languages for a tribe in the area so they can read their own language. Many of the adults are unable to read or write their own language so she has helped to provide an opportunity for them to advance their language!
The fish crew drained a fish pond filtering the water through a bag into the stream to catch the fish. Once the pond was drained many fish were still flopping in the mud so the team got into the muddy pond and caught the fish by hand and as a result getting full of mud! The pond was then cleaned, sweeping the mud with brooms into a pvc pipe and down the stream. The next pond was then deweeded and filled to transfer the tilapia into the pond. Casa de Fe will be getting about 1100 more fish due to the teams donation so cleaning the pond was a necessary task to support their food supply!
One construction crew put up forms for the wall that will be built with cement later on this week. They worked with two maestros and still found a way to have fun despite the language barrier! Another construction crew created a ditch for additional drainage, and many other ditches were cleared to prevent blockages during rainfall. Shell gets about 24 ft of rain a year and there's a 50% chance of rain every day, at least!! Some rocks took over 20 min to move because according to Aaron the rock weighed over 500lbs!.. Although this was a struggle we were able to relate this to our everyday lives due to the sticky situations and large obstacles that we encounter.
Every day a group of 5 get to have "baby time". This is when they get to spend two hours with the toddlers at the orphanage. We get to have one-on-one time with the adorable children! This extra human contact for the kids is good developmentally for the children and they really enjoy it. This is something that we all really look forward to participating in this week! Once we finished cleaning up we still had time to play with the kids! It is incredible to see how happy all the children are and how they have endless supplies of energy. It was a good reward after a hard days work!
All is well here in Ecuador and we continue to grow closer as a team through work and play!!! :)