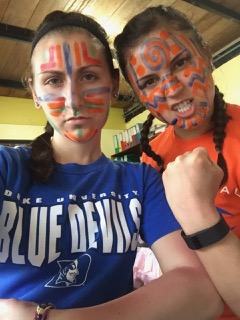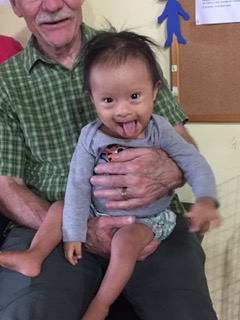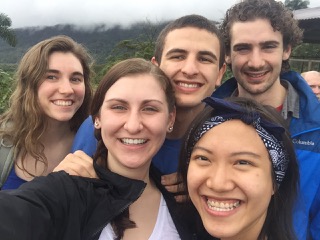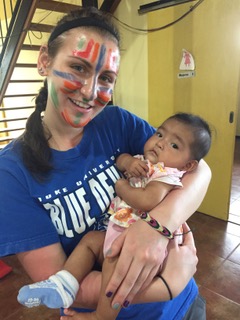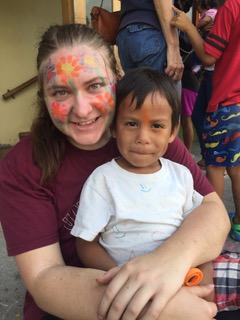 Greetings from Ecuador! We apologize for the lack of previously promised blogging, but the Internet connection has been poor at best, and we have been insanely busy. Ecuador is an amazing, beautiful place that we are all enjoying; not only are we in Ecuador, but we are roaming the streets of Ecuador during CARNIVAL season. Carnival season means "watch your back because you will be sprayed with foam (painful in the eyes), have eggs or fruit dumped on your head, get splashed with dirty, smelly water, or get water balloons thrown at you." It's all in celebration of Carnival season, and trust me, we are enjoying it just as much as the Ecuadorians. After being bombarded our first few days in Shell with surprise attacks from Ecuadorians, we decided to stock up on foam ourselves. No more Americans unarmed in Ecuador during Carnival season!
Today is Tuesday, the most beautiful day we have had yet while in Ecuador. The sun is shining bright and we are burning already (even with 50 spf sunscreen). I guess we're maybe a little too deprived of Vitamin D? We experienced the multiple waves of Ecuadorian weather today, with the hot sun shining bright one minute, and a downpour/thunderstorm the next minute. How fun is that? The cold rain is refreshing after a warm, sweaty day running around with the children while fully clothed to keep the bugs away. Since it is Carnival season, the children of Casa de Fe did not have school on Monday or Tuesday this week; thus, we were blessed with two extra days with the children. And believe me when I say, today was EXTRA fun. We started out the morning with face painting for the children, and of course we adults had to indulge ourselves, as well. We also had some of the group playing games with groups of children and working with Renee doing physical therapy/occupational therapy with the children of Casa de Fe. Then, we enjoyed a lunch that was graciously cooked for us by the tias of Casa de Fe (rice, chicken, and vegetables).
After lunch, a war broke out. About 45 bottles of spray foam had been purchased for our group and the children of Casa de Fe, and we all turned completely white 2 minutes later. The whole front yard of Casa de Fe resembled the Minnesota winter grounds that we all know so well-white. Following the spray foam fight, we were all completely covered in foam and we headed out to a muddy obstacle course that had been set up earlier in the day. Boy was it muddy. Although it was a fairly short obstacle course, if any part of your skin was showing, it likely got scraped up with all of the rocks at the bottom of the mud pits and the river. The kids LOVED getting all muddy and wet. Ironically, it started to downpour during our multiple runs through the obstacle course. At that point in time, all of us were begging for the hot sun to show itself and warm our freezing cold bodies. As you may be able to infer, we were caked with mud, head to toe, eyes and ears, in our clothes, and smashed into our hair. I honestly did not think the hotel was going to let us walk through it to get to our rooms.
We tried our best to rinse off as much as we could, but we walked back/rode in a taxi back to the hotel soaking wet with mud all over our bodies. It's safe to say that we got some pretty strange looks from the Ecuadorians during our trip back to the hotel from Casa de Fe, and its Carnival season! We all showered up and some of us had to use eye drops because our eyes were burning from the spray foam and mud. Now, we are about to embark on a journey back up to Casa de Fe to have a pizza party with the children. They are all so excited, as are we! Who doesn't like a good slice of pizza? We all get pretty exhausted and hungry throughout the day, especially running around non-stop with the children in the killer heat that none of us are used to. We are enjoying every single moment of it though, I can promise you all that. We are learning, we are living, we are making memories, we are loving, and most importantly, we are growing in our faith and letting our faith shine out onto others. These children at Casa de Fe change your life for the better, and we couldn't feel more blessed to have this opportunity and to be here for a week with these incredible children. All of the missionaries that have uprooted their lives to come and live here in Ecuador and to help out with Casa de Fe and to share the Gospel with the people of the jungle, they are amazing and they are appreciated, every single one of them. They have all inspired us to become better people, to love harder, and to let our faith grow wild.
Thank you to all who are supporting us in our journey from home and staying up to date on our mission. We are blessed to be here with a phenomenal mission team who are all devoted to serving God and to serving His wonderful children. We are in love with our experiences and will continue to update the blog whenever possible. Please continue to pray for us and spread the love of God back home. You can never love too much.
Adios from Ecuador. Love and hugs to everyone. Thank you to all of the parents for raising these amazing people that I get to spend the week with; your children are absolutely phenomenal and are changing lives; you should all be very proud. Also, thank you so much to Dr. Bob and all of the leaders on this trip who are changing our lives and inspiring us to become better Christians.
-Brooke Maruska and the 2017 Ecuador Mission Team