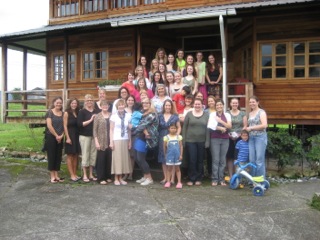 This morning we had brunch with all of the missionary wives. We had fruit, bagels and cream cheese. The women were very excited to have bagels. For most, it is the highlight of their year to eat bagels. One even commented that the fellowship that we have at the brunch is important, but the bagels are equally important. We got to hear many inspiring stories about mission life and how each of theirs live has been touched by Christ.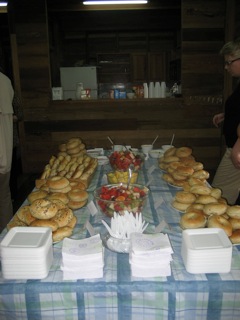 Our team picked up the bagels in Quito on the way to Shell at a local bakery. They were top notch bagels!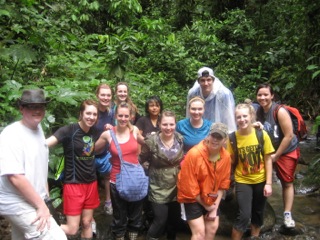 After the brunch we put on our hiking boots, otherwise known as rain boots, and walked over to Casa de Fe to get a tour of the house and school. Then Jeff, who works at Casa de Fe, took us on a hike through the jungle. The mile trek took about two hours. As we began our journey it was raining and by the time we got back our boots were caked with mud. We stopped halfway through the hike and took a picture in the middle of a river. The water in the rainforest supplies the communities of Shell as well as Puyo (a neighboring community of Shell). Javier came with us on our hike, and went for a swim in the river during our stop.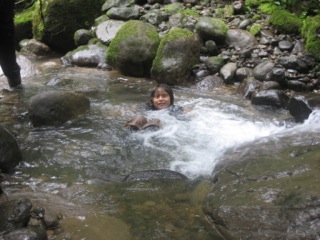 After the hike and tour of Casa de Fe we came back for fellowship with Jeff and his family. The team had a delicious meal of tacos. Rick, the veteran team member, took us on a tour of Shell--and we enjoyed another taste of the Magnum ice cream bars! After our adventure, we came back for team time and music. The team is now enjoying each others company and preparing for a full day tomorrow. Check back tomorrow evening for a recap of the team's adventures.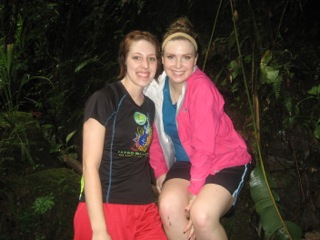 From Ecuador to you--God Bless.
~Kristin and Laura
Dearest Lord...Though you hide yourself behind the unattractive disguise of the irritable, the exacting and the unreasonable, may I still recognize you and say, "Jesus...how sweet it is to serve you."~ Unknown