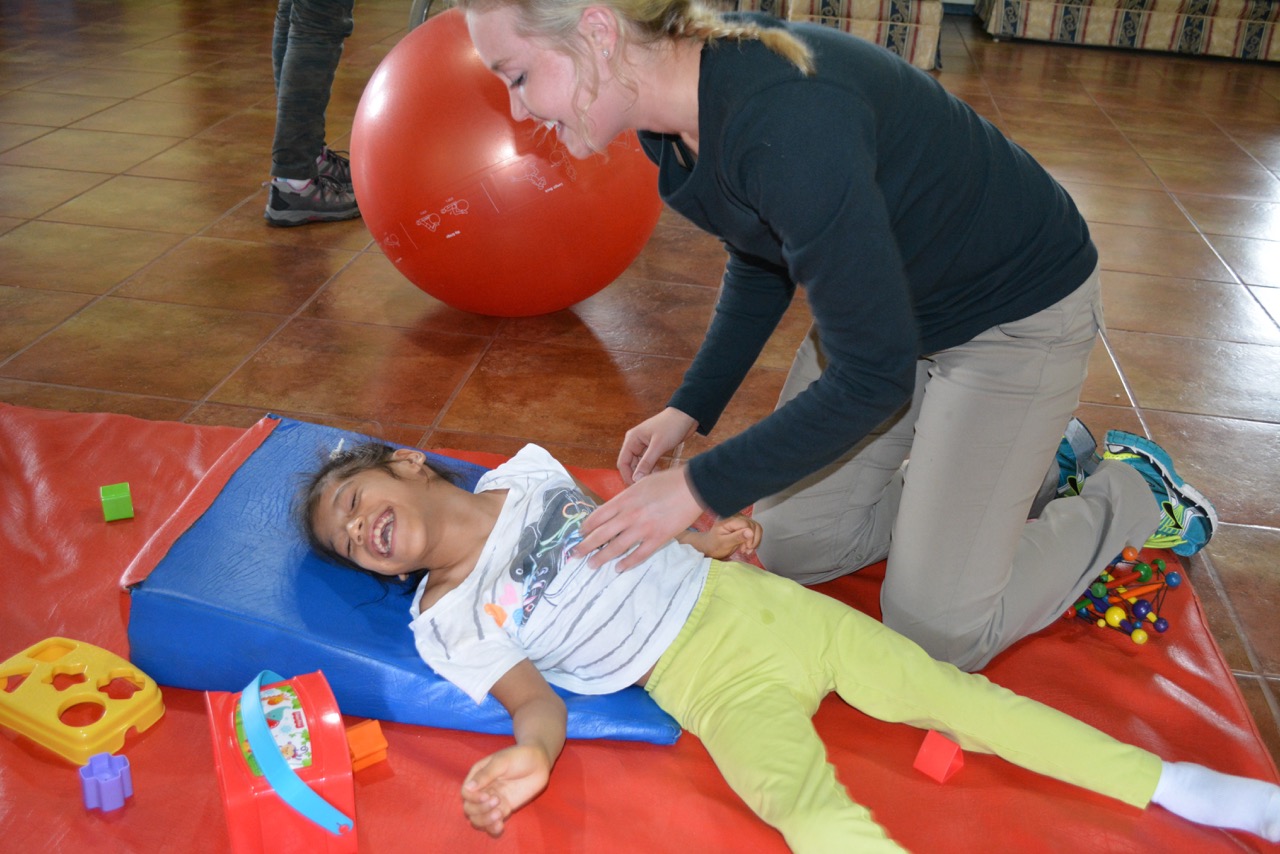 Above is Amanda, a special needs child at Casa de Fe who had the most amazing laugh and smile. Working with Amanda brought out my biggest smile and laugh, but will also made me really appreciate this SALTs trip. She absolutely melted my heart and made your day.
As a group of us work hard outside, three of us get the opportunity to work with the children all day. A day inside consists of therapy with the children of Casa de Fe, starting with the infants. Each child has their own needs in which the therapy is catered to. I had the opportunity to work with a 2 year old named Sol who had fluid in the back of her brain that was inhibiting her sensory and motor skills. Because of these things she was still on the bottle and had difficulties grabbing things that she wanted, things such as a toy. We worked on these areas by brushing around and in her mouth, and by working on grabbing things in front of her. The workers at Casa de Fe said that she has come along very well and continues to show progress. She was such a cutie and had an adorable smirk when she was happy.
Once therapy with the infant was over, we then had the opportunity to work with an older child who also had therapy needs. I had the opportunity to work with a 6 year old girl who had a condition in which she was not expected to live past the age of 3. This condition really inhibited my ability to communicate with her because she was blind and unable to see. Touch was about the only way in which I could try and show her comfort. Together we worked on stretching. If I remember correctly, both of her hips were out of her sockets. And yet with this her legs were very stiff and fully extending her knees, ankles, and toes were quite the challenge. I personally had a difficult time stretching her because the resistance her body was having, but also because I could see an occasional tear fall from her left eye. I can imagine I had occasionally put her through great pain. That was very challenging for me but I still enjoyed the opportunity to work with this gorgeous eyed girl with the longest eyelashes I have ever seen. 
Then we took a break for lunch, returning after to work with the special needs children. This experience especially touched my heart. At this time I was able to work with a beautiful girl named Amanda. Man, was she fantastic. I have never seen a smile so big and a laugh so beautiful. Amanda had two conditions, one was smooth brain and the other one's name escapes me. But her therapy consisted of stretching (similar to the things I had just explained in the previous paragraph), grasping toys in front of her, and some back exercises. During these things she would frequently she would show her big and beautiful smile and it was the most amazing thing to me. As soon as I showed her a smile back she would feed off of it and bust out laughing. She is a truly special girl and someone who had spoke to my heart, all without even speaking a word. Experiences like these are why we came to Casa de Fe. And it is through this experiences that we all will come back with a new perspective on life.

Morgan
"I said to the man who stood at the gate of the year, 'Give me a light, Give me a Light, Give me a Light that I may tread safely into the unknown.' The man who stood at the gate of the year said, ' put your hand into the hand of God, He is better than a light and truer than a known way.'" ~ Anonymous