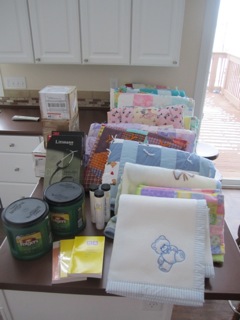 Good afternoon,
The packing continues; coffee for the missionary construction foreman, stethoscopes and pharmacy manuals for new Ecuadorian physicians on the staff at Hospital Vozandes del Oriente in Shell, airplane parts for the mission planes flying to jungle airstrips, and a stack of quilts for the children of Casa de Fe. As I looked at this stack of materials for Shell, I thought about hands. Bishop Bill Rindy wrote a morning devotional I received in Ecuador the day Vicky met Patti Sue Arnold. The title of the devotion was "God does extraordinary things with through ordinary hands." The strong hands of Dwight will hold a mug of Folger's decaf coffee before he heads up the hill to continue the construction of "The Promised Land." The hands of the Ecuadorian doctors holding a new stethoscope as they examine local patients. The hands of mechanics installing new safety equipment into the planes that fly mission trips into the jungle and the hands of the pilots flying those planes. The hands of the women of First Lutheran Church who have lovingly cut, sewn and tied knots while making the beautiful quilts, made specifically for the children of Casa de Fe, and the hands of the little children pulling those quilts about them as they snuggle off to sleep. And…the hands of the men and women of our short-term mission team packing and transporting these materials to Shell.
We are excited for the opportunity to reach out to the children of Casa de Fe and thankful for your support.
Bob
"Opportunity is missed by most people because it is
"dressed in overalls and looks like work."
~ Thomas Edison