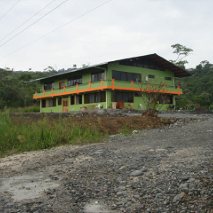 Bob and Vicky are in final preparations for taking a short term mission team to Shell, Ecuador. There are 27 people flying out of Minneapolis in two weeks for a ten day trip to Ecuador. Included in the group are seventeen college students from Concordia College.
The main focus of the trip is to participate in the construction of a school on site for the children. Patti Sue has young missionaries from the US who teach the children. Bob and Vicky helped raise funds for the construction of the school and are bringing a team to help this project. One of our dreams is to encourage Concordia students to volunteer to participate as teachers in this school. The children are taught in English and take Spanish as a second language.
The team will also be working on making textbooks for the children attending the school, Emaus, a local free school for the poor children of Shell. Last year's enrollment 235! These children have to other option for education.
The team will also work on preparing translated Arch books for the people of Salasacca, Ecuador. The people speak Salasacca Qichua, one of the multiple Incan dialects of Ecuador. The Arch books are a way to teach them to read in their native language. The stories are the very common children stories we all learned; Noah, Jonah & the Whale, David & Goliath, etc.
The special fundraising project for this year is to pay Patti's $19.699.00 bill at the Hospital Vozandes del Oriente. Patti takes all children and many of them have significant medical problems and challenges. There is no Medicaid in EC.