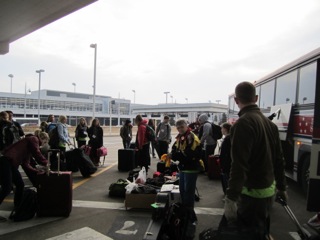 Arriving at MSP Airport
After a wonderful breakfast of chocolate cupcakes to celebrate Lisa's 19th birthday, we unloaded the bus in Minneapolis (above). The re-packing and checking-in went smoothly.
Landing in Atlanta was a bit bumpy. We hit the runway with a thud but managed to arrive safely! After a quick meal, we were back on the plane for another nap (haha). We were all exhausted from a busy week of tests and preparing for the trip; it's safe to say no one had trouble sleeping on the plane.
In Quito, we were relieved to be done with traveling for the night and were greeted at the airport by Tandy and Dwight, and their newly adopted Ecuadorian boy, Jonathan. Tandy and Dwight coordinate the volunteers for Casa de Fe. They had a bus ready for us to get to the hostel. Once at the hostel, we settled in and went straight to bed.
Friday was filled with more traveling (and naps). A bus brought us from Quito to Ambato where we stopped to get groceries and lunch. A group of us went to a pizza place where we managed to struggle with the language barrier. Since we allowed the boys to order, we had a little too much pizza-we were all stuffed (even though Mike didn't eat enough)! After a huge load of groceries, we got back on the bus for the last stretch.
Here are some highlights of the curvacious, narrow, steep, tunnel-filled, foggy, mountainous, waterfall-ridden…excitement? Yes, yes indeed…
Mike: "That waterfall was coming straight out of the mountain!"
Matt: "I'm going to fall out of the bus."
Ona May: left at the gas station…whoops…she caught up to the bus…
Bus driver: Fearless and law-less…laughing at our fear
Kristen: Busy entertaining Jonathan…and Katie
Stay tuned for more…
Jocelyn, Morgan, Betsy, Sydney, Kristen, Mike, Erik, Katie