Buenos Noches ("Bernes terdes")! Yesterday we got to meet the kids of Casa de Fe for the first time. We each had a buddy to spend the afternoon with. They were so full of energy and love! It was touching to see how far the simple things can go with these wonderful children. It really sheds a new light on our priorities in life and relationships with one another. After spending time playing with the kids, we were able to take an adventurous hike through the JUNGLE, which was exciting and challenging. We got to put our outdoor skills to the ultimate test and swing on vines like Tarzan!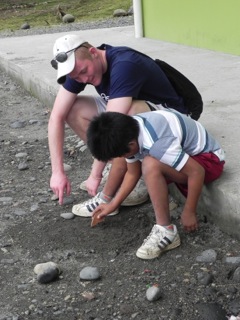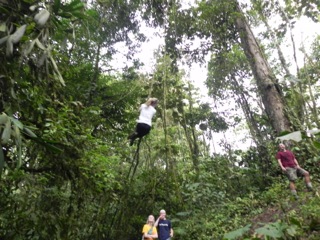 Today, we awoke to a delicious breakfast to get us ready and energized for the day. We headed out onto the rainy path to the orphanage to begin our first whole workday. Our team is helping build a schoolhouse for the kids of Casa de Fe so that there is more room for the kids and they can separate their living space from their classroom space. Currently, the kids live in a building that serves as a home, school, and therapy center. We broke into teams and performed various tasks including digging up bricks, sifting sand, making cement, plastering walls and ceilings, and having "baby time" with the children. The maestros were so patient and kind with us, and it was great to see how much time we were able to save them by being here for a short time. In the week that we are here, they said that we will be able to accomplish the same amount of work that would normally take them two months to complete. It's great to know that we are helping the kids of Casa de Fe by making this space more cost-effective and available for them sooner.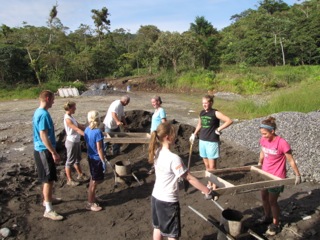 We enjoyed an Ecuadorian lunch at Alexander's Market and an Ecuadorian dinner at Abuelo's. Mike R., Emily S., Katie B., Jacob T., and Ross T. were the luckiest of the bunch and got a chance to enjoy a delicacy of Ecuador: FISH EYEBALLS. The verdict was that they were mostly tasteless and had an odd, mysterious crunch that caused most of them to fear any further munching and to swallow the eye whole. Afterwards we were able to experience Bob's favorite ice cream place, Micko's. It really was a treat and a half!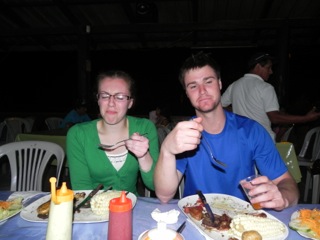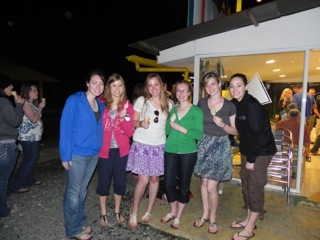 So far, Ecuador is treating us well! We are so blessed to have this experience and are already dreading the return home. We cannot wait to see what the rest of the week has in store for us!
Thanks for reading,
Katie B., Emily D., Brittany W., and Kristin W.