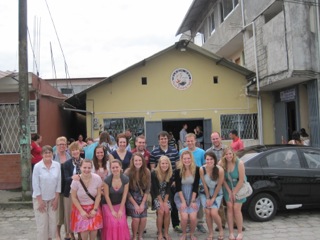 This morning we were able to experience church Ecuadorian-style. We recognized several of the songs, but struggled through the hour long sermon that was completely in Spanish. Above is a photo of those of us who went to, as Betsy calls it, "normal" church with Dwight and Tandy, while the rest of the group attended a Catholic mass in town.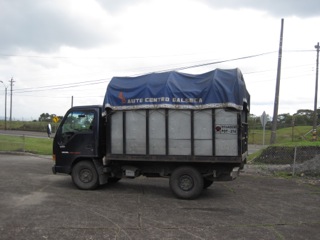 When our feet are sore from walking (just kidding, walking definitely beats sitting on a plane) we are carted around Shell in this cute little truck. It's cozy--as in sitting on each other's laps, Betsy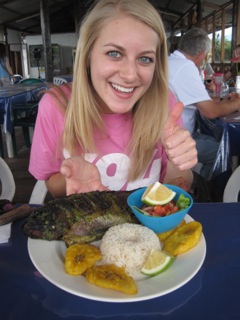 Lunch today was our first traditional Ecuadorian meal. Options included tilapia, chicken, or a meat platter. Pictured above is Betsy with her grilled tilapia. We all enjoyed some Ecuadorian made Coke and sparkling manzana (apple) juice. Apparently fish eyes and fins are more appetizing to the locals than to our group, though some people decided to try them and were pleasantly surprised. We all had fun watching Dwight and Tandy's son Jonathan eat the remaining meat, eyes, and fins off our fish.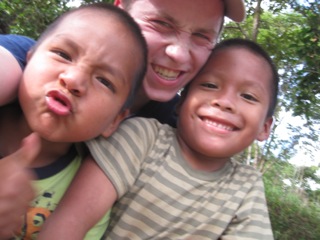 The highlight of our day was when we got to spend time with the children of Casa de Fe. Today we got to see the kids age 3 and older, but we won't see them the rest of the week because they will be in school. Everyone enjoyed interacting with all the kids for as long as we were able to. In the picture above is Adam with Coco and Carlos, his buddies for the day. Kristin was impressed with how well everyone, including Adam, handled all of the kids. We played in the yard, on the bike trails, down by the river, and basically all over the property.
After an eventful and exciting weekend, we are ready for Casa de Fe to put us to work tomorrow!
Buenas Noches!!
Betsy & Gina